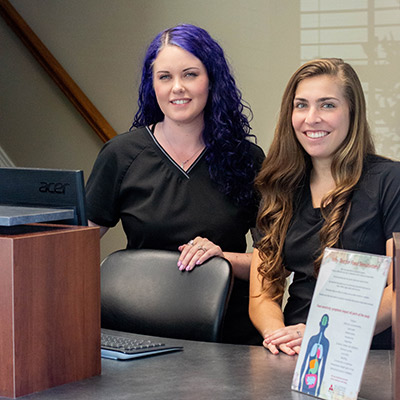 New Patients
The moment you step into Triad Family Chiropractic, you'll be warmly welcomed by our staff. We want you to feel comfortable, so we'll introduce ourselves and take you on an office tour. Our office is a place of relation; an oasis of calm from the stresses of the outside world. With our passion for service, you'll always receive care to the best of our ability.
When scheduling your first appointment with us, we require a $20 deposit in order to reserve your spot. This deposit will go towards the total cost of your first visit. We understand that things come up so we ask that if you need to cancel or reschedule your appointment to please give us at least a 24 hour notice, if not the $20 deposit becomes a cancellation fee. Your time and your health are very important to us. We look forward to seeing you in the office.
Your First Day With Us
We ask that you fill out paperwork ahead of time. You can find these forms on our site or ask to have them emailed to you, then bring them in completed.
When you meet Dr. Craig, he'll sit down with you for a private consultation. Next, you'll have an examination, which includes scans with the CLA INSiGHT™ Subluxation Station and X-rays (if needed). From this information, Dr. Craig will be able to analyze your case to get to the root of your problem and discover how we can help you.
Your Second Visit
When you return, Dr. Craig will explain what he found from your examination, what it means to you and how chiropractic can improve your situation. He will lay out your personalized treatment plan that is designed to reach your goals. You'll also find out what your insurance covers and what you may be responsible for.
Your first two appointments with us will take about an hour each. Follow-ups will be shorter in duration.
Call our office today to schedule your appointment!
CONTACT US »
---
New Patients | (336) 904-0752