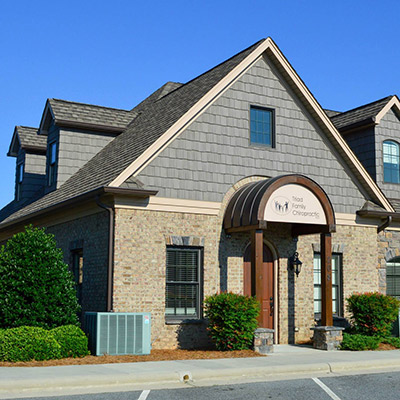 About Us
In 2010, Dr. Craig Hensley graduated from Life University in Marietta, Georgia. He gained experience working with other chiropractors, then decided it was time to embark on his own practice journey. He and his family moved to Kernersville and fell in love with the people and our community, quickly finding a church family. Triad Family Chiropractic was opened in 2014.
Our Mission
To love and serve all patients.
We want people to be as healthy as possible. Our approach to helping them is to make sure that their nervous system works as it should. When there is a subluxation, or misalignment in the spine, your brain and body can't function at 100%. By making gentle corrections, we can restore your well-being. Our goal is to be here for you and help you to the best of our ability!
Prepare to Be Surprised
When you think of chiropractic, what comes to mind? For most people, it's a quick twist, crack and pop. You might have heard about it from other people or experienced it for yourself in another chiropractic office. We ask that when you come to us, you bring an open mind. We're not what you expect. Our staff is made up of some of the friendliest, most welcoming people you've ever encountered. Our doctor is honest and provides care with integrity.
Our technique doesn't involve any force or cracking, either. With Torque Release Technique®, there is no reason to feel concerned or worried about getting chiropractic care.
MEET DR. CRAIG HENSLEY »
We're Guided By Our Faith
We're a Christian-based organization. Our faith guides us in everything we do in life, which includes your health and healing. We believe that our bodies were designed by God. We're meant to be healthy and pain-free! When we remove interference to your nervous system, your body can work how God intended it to. Often, we end up praying together with our patients, and we love sharing our faith!
Finding Relief and a Higher Quality of Life
Many of our patients find their way to us because they've been in pain for years. We love helping people live free of discomfort. But another incredible transformation happens alongside that pain relief. When you can do things you haven't been able to do in years, your thirst for life returns. You can get back to playing with your grandkids, golfing, running or going about your daily activities without needing assistance.
Chiropractic is a fantastic solution to pain. It can, however, offer you even more. We can help improve your overall life and prevent issues further down the line with regular care, so you can always keep doing the things you love.
Insurance Is Accepted
We accept most insurances, including Medicare. Contact us now to set up your first appointment!
---
About Triad Family Chiropractic | (336) 904-0752